PRO MUSCLES NUTRITION whey protein isolate is one of the most advanced whey protein formula. It is effective in muscle repair post workout and is ideal for muscle growth as well. It is known for its amazing results and is completely value for money. It undergoes 20 steps ultra-clean purification process to maximize the protein quality, so you can be assured that you get a best quality isolate protein.
It gets quickly absorbed in the body ensuring that your body gets the required amino acids for growth and muscle repair.
Promuscles hydro Isolate - 100%: Micro-Filtered Whey Protein Isolate Using over 20 steps in a sophisticated process to maximize protein quality, this whey protein isolate provides you an ultra-clean option. Promuscles Whey Isolate - is pure, fast-absorbing protein providing key naturally occurring amino acids to support optimal muscle growth and performance.
Micro-filtered whey protein isolate
Provides 30g protein, 7.1g BCAAs and 0g sugar,carbs,lactose per serving
Fast absorbing for muscle growth & repair
Fuels athletic strength & performance.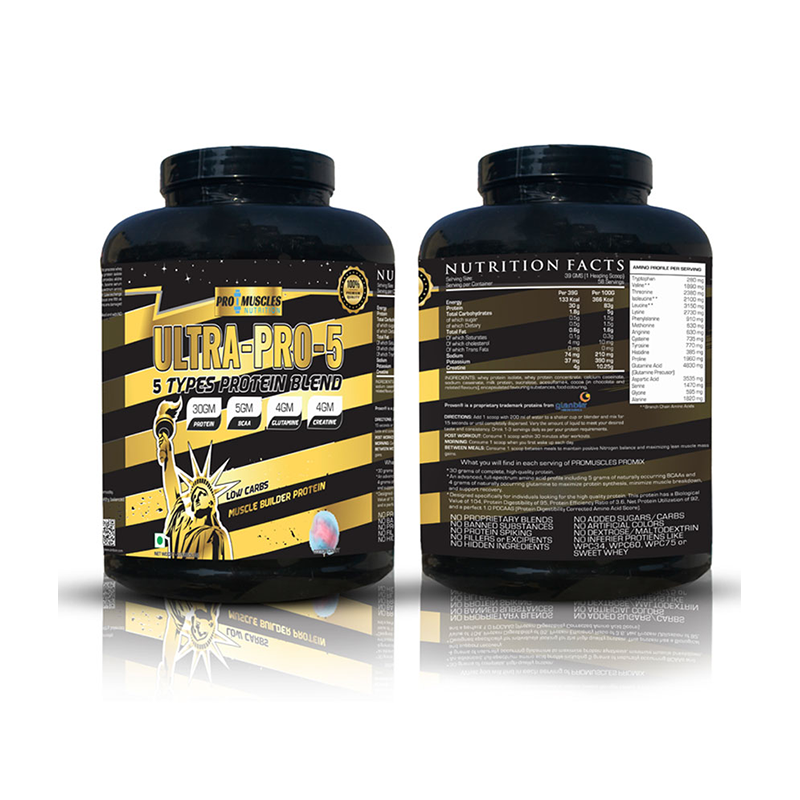 Ultra-Pro-5 Sustained Protein Blend : A 7-Hour Sustained-Released Protein Ultra-pro-5 Sustained Protein Blend now available in Cotton candy & rich chocolate flavors. If you need ongoing muscle support to fuel your active lifestyle, you can rely on Ultra-pro-5 Sustained Protein Blend for four sources of scientifically blended protein: native whey isolate, native sodium & calcium casein, milk protein and whey hydrolysate. This versatile dietary supplement fits into your workout schedule wherever you need it, and it provides up to 7 hours of sustained protein release*, to keep you powered through the day and night.
Both rapid-release amino acids and 7-hour sustained protein release for ongoing muscle fuel, support and recovery
Ultra-premium, high-quality protein from 4 sources: native whey isolate, native micellar casein and whey hydrolysate
30 g of protein, 5g of BCAA and 130 calories per serving
Versatile dietary supplement can be used at breakfast, between meals, after workouts and on non-training days
Gluten-free formula contains no soy